40 years of Excellence
When the BMW 3 series came onto the scene in 1975, many doubted that it would become a successful model. Over 40 years later, they would be eating their words because today, we're talking about the 6th generation of the BMW 3 Series: the F3X. The perfect mix of power and comfort make these cars a choice that any enthusiast would love. ...

Enthusiasts are drawn to the F-chassis for more reasons than just the fact that it's the final 3-series to be offered with a manual transmission. Its power, comfort, style, and technological advances are the cherry on top. Many want to modify their F-chassis but, understandably, don't want to lose the driving experience that comes with it. Our Super Low air suspension is designed to have higher spring rates at low drive heights without sacrificing the classic BMW feel and handling characteristics. These cars are the perfect pair with our Super Low air suspension. Grab a kit today.

Utilizing our USA-made low-volume air springs for both the front and rear suspension and proprietary 6061 billet spring components, the Super Low Air Suspension Kit is fine-tuned for perfection. Motorsport-grade spherical bearings connect you with the road, and every click of our 32-way adjustable monotube dampers yields a distinct change in damping force, allowing you the most adjustable possible for your personal driving preferences.
2014-2021 BMW 2 Series (F22/F23)
2012-2019 BMW 3 Series (F30/F31/F34)
2014-2020 BMW 4 Series (F32/F33/F36)
Check out our travel range

Keep in mind, you can adjust the threaded height of your kit to your liking to change driving spring rate and max lift capability. These photos illustrate suspension travel using our recommended settings. We configure every Super Low to our recommended settings during assembly so you can install with confidence knowing you'll have a great ride quality right out of the box.
Designed, tested and built at our Vermont facility, Super Low is made by the most trusted air suspension experts
From our industry leading packaging down to the smallest piece of hardware, we strive to be the best.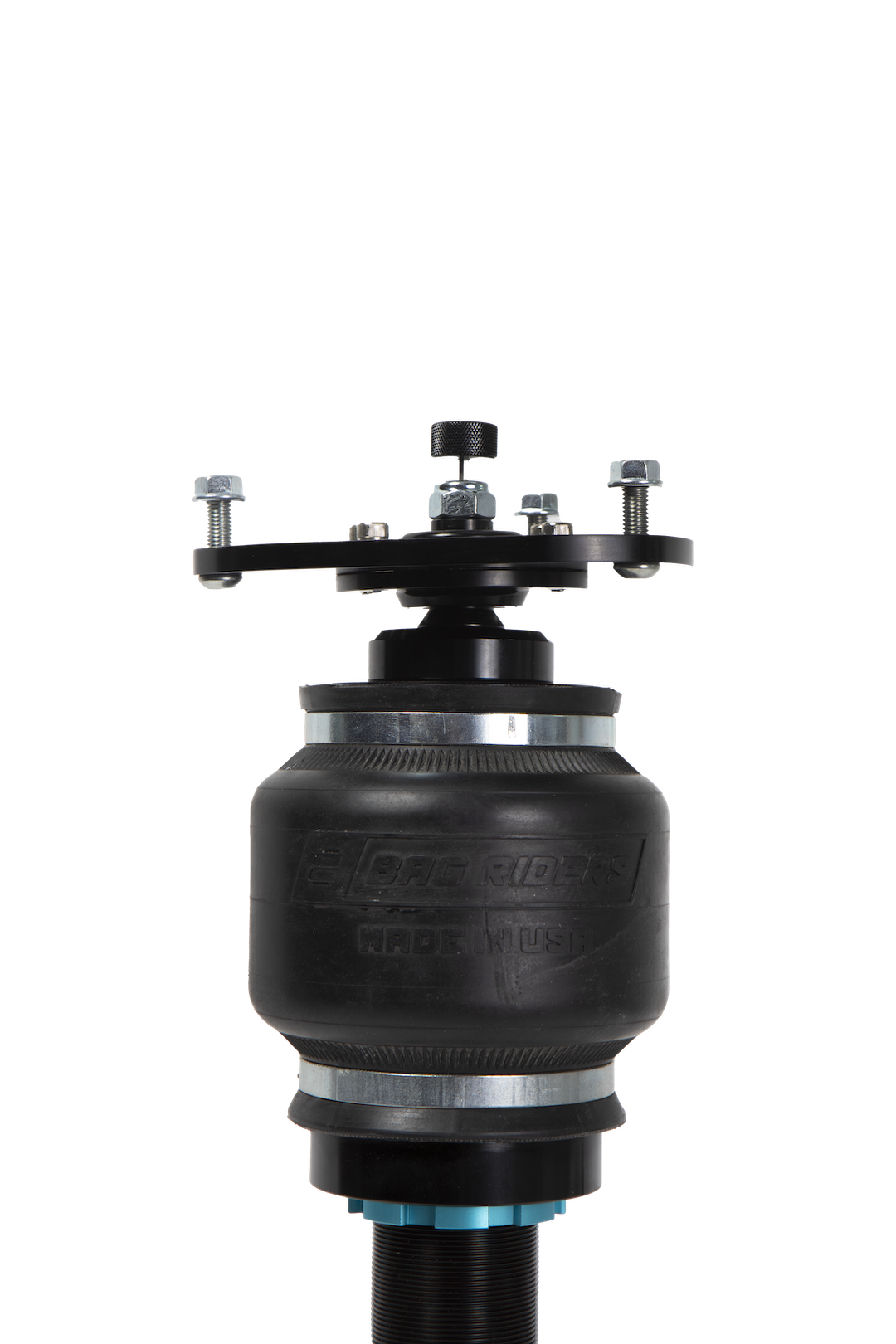 Our USA-made Extra Thick air springs and 20mm standard damper rods provide a sporty suspension even at low heights
Limited Lifetime Warranty
Are we crazy? Well, probably a little bit. But really, we just make awesome Products.
3 Stud Applications
32-Way Adjustable Dampers
20mm Damper Rod
Proprietary Radial Bearing
Pillowball Camber Plate
USA-Made, Extra Thick Air Springs
Spanner Wrench
(2) Black Leader Lines
(2) Silver Street Elbows
(2) 1/4″ PTC Female Straight Fittings
(2) 3/8″ PTC Female Straight Fittings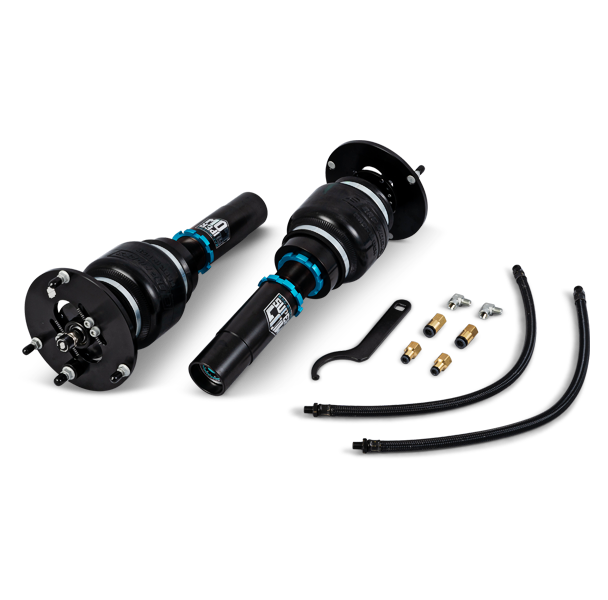 5 Stud Applications
32-Way Adjustable Dampers
20mm Damper Rod
Proprietary Radial Bearing
Pillowball Camber Plate
USA-Made, Extra Thick Air Springs
Spanner Wrench
(2) Black Leader Lines
(2) Silver Street Elbows
(2) 1/4″ PTC Female Straight Fittings
(2) 3/8″ PTC Female Straight Fittings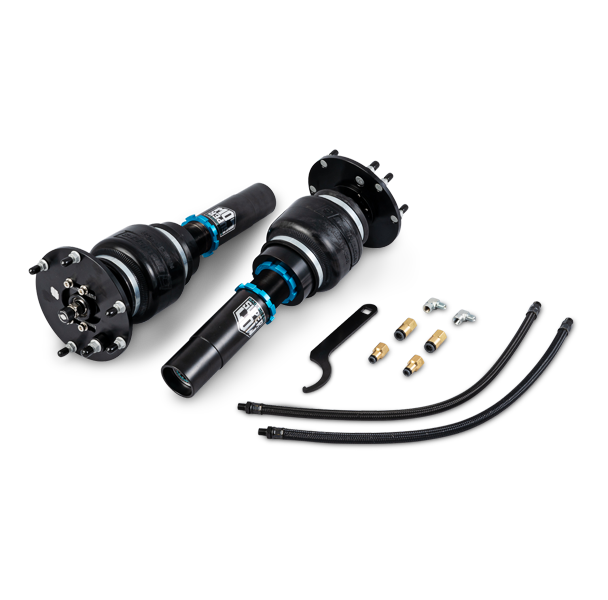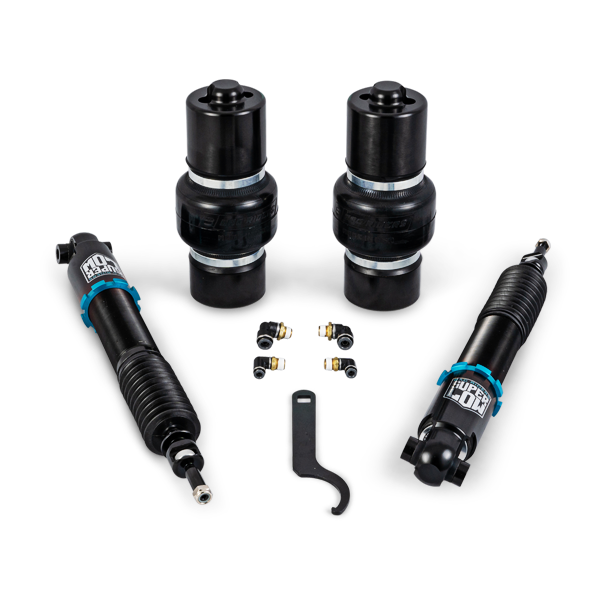 32-Way Adjustable Dampers
USA-Made, Extra Thick Air Springs
Proprietary 6061 Bolt-in Air Spring Brackets
Air Spring Bracket Mounting Hardware
Spanner Wrench
(2) 1/4″ PTC Swivel Elbow Fittings
(2) 3/8″ PTC Swivel Elbow Fittings